Q : You have a family tradition of painting that goes back two generations. Your grandfather 'Robert Thomas Mumford' exhibited regularly at the Royal Academy of Arts and your father 'Geoffrey Robert Mumford' exhibited at the National Portrait Gallery. Art was in your blood, did you always want to follow suit or did you have other ideas for the future.
JM : I always wanted to be an artist. I was creative and I followed in my family's footsteps I guess.
Q : Four years was spent at the prestigious Hornsey School of Art (1970-1974) obtaining a BA in art and design. Viv Albertine, Mick Jones, Graham Lewis, Stuart Goddard also attended and the Art Punk movement of the late 70's was beginning to form. Did you see a change in style and attitude during your time there?
JM : The famous "sit in" happened before I arrived in 1974. Certainly we were encouraged to think "outside the box" at Hornsey. New subjects were introduced on the curriculum like Erotic Art. Oz magazine was popular. It was a time of change. The 1960's had sowed the seeds of revolution. I did not start to enjoy the punk movement until later.
Q : What was your 1970's musical preference.
JM : I liked The Beatles, American R + B, Soul music, Bob Dylan, Leonard Cohen, Frank Zappa, Captain Beefheart, Jimi Hendrix. David Bowie was very popular while I was at Hornsey. I was a huge fan of Reggae. Then came Iggy Pop.
Q : Between 1976 and 1979, you were the Art Director for Polydor Records designing logos, record covers, posters, advertising and point of sale material for such artists as Siouxsie and the Banshees, The Jam, Sham 69, The Jolt, The Who and let's not forget Shakin' Stevens. How did you get the job at Polydor and was it tough to move into the 70's male dominated record company world.
JM : I was a freelance illustrator in Publishing when I left college. Over worked and badly paid. I found out about the Art Director job via an Art Director friend. They liked my ideas and I got the job. The only permanent job I ever had. It was a misogynistic world but that didn't bother me too much. I was having too much fun.
Q : 1979 saw you move from Polydor and set up in freelance design. Clients included RCA, CBS, MCA, Island and Virgin Records. That was a bold move, were you confident in the future and was this transition an easy task.
JM : I did not enjoy the restrictions of being an in-house Art Director much. My job was to work on Bert Kampfert record covers as well as the Who! I was very involved with the music biz by then and had made lots of contacts. Going on tour for the day with Johnny Thunders and the Heartbreakers changed my attitude about having a 9 to 5! I went on a 2 week vacation in New York and stayed across the pond for 3 or 4 weeks too long. I went to Canada and Jamaica. I forgot to let my boss know I was extending my trip. They were not very happy with this irresponsible behaviour when I got back, and who could blame them! I left to work freelance and never regretted it as I doubled my income in the first year of leaving.
Q : The year also brings us to your working relationship with The Skids. You are credited for work on the singles Masquerade, Charade, Circus Games, Goodbye Civilian, A Woman In Winter and Iona. How did your working relationship begin with the band?
JM : I was chosen by Virgin to work with them. Richard Jobson was very involved with the artistic direction of the band. Probably working with the other band members behind the scenes. There was some room for me to be creative too. I'm sure he got approval from all of the band members before the designs went to print.
Q : Did you have free reign with your designs for Virgin Records.
JM : We seemed to have artistic control. I made several covers without any outside involvement at all. XTC covers and many reggae Front Line designs.
Q : As an artist, rather than a musician or record producer, it would be interesting to know if you think that a connection to the music is necessary and if artistic progress can be made without a knowledge of the sound.
JM : Ideas can come from words or sounds. But music can be inspirational.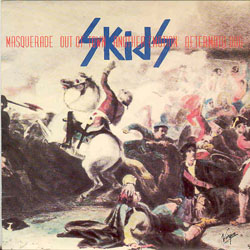 Q : Masquerade (May 1979 ) - Richard Jobson suggests that he was inspired by a painting by Picasso. The image wraps itself around the front and reverse of the sleeve and was originally in a limited edition gatefold sleeve. How did this sleeve develop from original idea to release?
JM : Richard brought in the image of a battle between England and Scotland. Although the painting showed a victory by England, Richard remembers that we chose a part of the picture that implies a victory by Scotland! Certainly the petrified horse is reminiscent of the animal in the groundbreaking Picasso painting "Guernica". His statement about the horrendous Spanish civil war.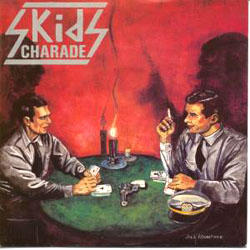 Q : Charade (September 1979) features a painting that is also signed by you. Was this image created for the release or was it already in existence. Again how did this sleeve mature to the final single.
JM : Richard was inspired to write this from a scene in the film "The Deer Hunter". The Russian Roulette card game scene. I painted this gouache when I had just seen "The Cincinati Kid" with Steve McQueen, which is why I used him as a reference.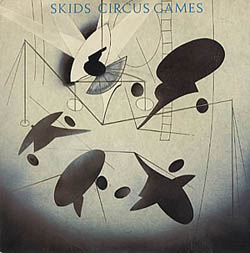 Q : Circus Games (August 1980 ) saw a change in direction and this time was released with a poster sleeve. One review of the single praised the sleeve more than the record "Great sleeve...Man Ray ballet dancer cum trapeze artist and shadows that opens into a lavish poster that fans will lap up". The sleeve style featured on three singles, what was the inspiration and intention of the new look.
JM : Richard brought Man Ray to the table. I dusted off my airbrush and originated 3 paintings that we all were happy with.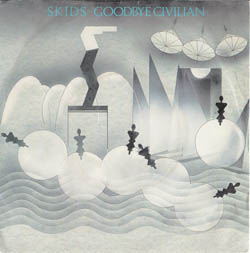 Q : Goodbye Civilian (October 1980) also had a limited edition picture disc alongside the regular sleeve and is part two of the triumvirate of new style images. Did you have to adapt your work to cater for the limited edition format and ensure the image worked in addition to the standard seven-inch sleeve?
JM : All the cover designs had to make sure that they worked in all formats. It became much harder to make the designs work in the cassette format.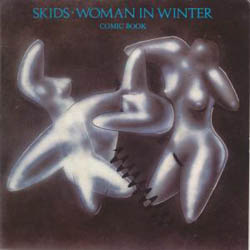 Q : A Woman In Winter (November 1980) was the next release, it was promoted as a Christmas package and contained a twelve-page comic book that you created under the pseudonym "Viv McDonald" and is the final part of the trilogy. Virgin certainly liked a gimmick and your cover imagery endures beyond the limited comic strip. Did the limited edition mentality become tiresome as an artist?
JM : Not really and yes, I am Viv McDonald. I enjoyed making the cartoon very much. The retro designs were inspired by the comics of my youth. "Girl" and the "Eagle" for boys.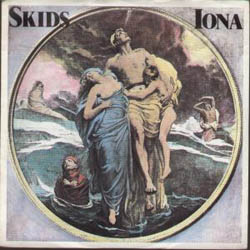 Q : Iona (October 1981) was the last single that featured Stuart Adamson and had an epic biblical style sleeve plus a new Skids logo. Was there a change of plan evident for the band at the time and how did the idea for the sleeve develop.
JM : My guess is that Richard brought me the picture and I hand tinted the black and white image with colour.
Q : Alongside the actual sleeves there was also advertising and display material that you were involved with. What material did you create and is there a sealed vault somewhere full of original posters and displays.
JM : I created a lot of "stuff". I did not archive it. And most is lost in the vaults of time. I illustrated weekly for the NME at this time. I have kept some of my favourite pieces. I have a Public Image poster. Sometimes people e-mail me with covers that I designed and I have forgotten all about them!
Q : You mention that Richard Jobson worked closely with you on the sleeves and should get credit for his contributions. How was your working relationship and were the rest of the band always in agreement with his choices.
JM : I can't remember meeting with the band. Richard came regularly to my studio in Great Windmill Street, Soho. I shared the space with Don Letts the film-maker and Kenny McDonald, tailor to Richard and John Lydon among others. Richard's contribution to the covers was understated. He was the spokesperson for the band regarding cover design. He should have got credit on the sleeve. I got into the habit at Polydor for putting my credit on everything as we were taught to do then. I regret not sharing this credit with him.
Q : Do you have any work in progress imagery or rejected versions of Skids sleeves to share?
JM : No. As far as I know everything was accepted.
Q : Who has the copyright of those Skids sleeves, do you own the images or do they belong to Virgin. Brian Cooke offers his 'Wide Open' print for sale, have you ever ventured into any print runs to sell alongside your paintings.
JM : No print runs. The artist remains holder of artistic copyright, forever as far as I know.
Q : Further ventures as a scenic painter for films and television and as a mural painter also scatter your career, can you tell us about your work in that media?
JM : Exhausting! Exciting. Nerve wracking to get it done by the deadline. Lots of fun.
Q : Band management was a natural progression and you also co-directed and co-produced several promotional music videos. Who was the band and where can we see your video work.
JM : I managed Rip Rig and Panic very briefly. I was asked to manage them and arranged them their contract with Richard Branson at Virgin. I sort of quit at that stage. Mostly because I had no previous experience at all to organise gigs and tours and I was busy designing covers for them. They were my friends.
I Art Directed 2 videos for Gary Clail, "Human Nature" And "Escape" with Russel Curtis. Also some Charly videos as co-producer, again with Russ. It was fun but also a lot of pressure .
Q : You've worked with a diverse and impressive array of artists and labels (Feel free to name drop), do you look back on your time spent with The Skids with fondness.
JM : I never really "hung out" with anyone in the band except maybe Richard Jobson. It was a professional working relationship. Not really "hanging out" as such. We got on well. Yes, I enjoyed working with him.
The energy created by "punk rock" was infectious. I had not met any New York people before working with The Heartbreakers. Walter Lure (who used to work in finance before he joined the band) "blacked up" for one gig at the Speakeasy. Johnny Thunders broke down a door at their Chelsea, Oakley Street residence once just before I arrived to show them some designs. The drummer Jerry sang "Blueberry Hill" to me over the back of a coach seat on the way back from a gig. I was in New York and visited the band at the time when Sid Vicious killed Nancy at the Chelsea Hotel. Memorable times.
Q : In 1991 you enrolled in an oil painting vocational course at the Slade School of Art, which leads us to your oil and watercolour work of recent years. You have exhibited solo works and have been involved in Charity Work with 'Supporting Dalit Children' and 'Hearing link' even giving a speech at St James's Palace in the presence of royalty. What does the future hold for Jill Mumford - The Artist?
JM : I spend a lot of time playing Bridge. The card game. I am pretty good at maths, competitive and I like to gamble. There is a detective element to the game that I love. This hobby has taken over a lot of my time for the last 10 years. I am now a Life Master and hope to become a Grand Master. I play all over the country, sometimes internationally and represent my county, Hertfordshire. It is a great challenge and keeps my brain active. Also I get to meet other people like me!
I love painting too. And I love the charity work I have done.
Q : Do you have any final touches to add before we put these singles back in the box.
JM : Thank you for inviting me to talk about those times.
JM : 1980's hair and shoulder pads!
Thankyou for taking the time to share your thoughts about this brief time in your career.
Jill Mumford 2014
*Article courtesy of Richard Tobin